The unit was established for the purpose of providing air transport support to  Australian and Allied forces operating within Australia, Dutch New Guinea and the Dutch (Netherlands) East Indies area of operation during WWII.

Initially operating Lockheed C-60 Lodestar transport aircraft until 1945, the unit then converted to operating Douglas C-47B Dakota transport aircraft.
          Lockheed C-60 Lodestar, A67-5 arrived on allotment, 28th August 1943, being the first of 10 such airframes allocated to the squadron.
          * Lockheed Lodestar ~ The Lockheed Model 18, or Lodestar, was built as a civilian airliner in 1940 and was developed from the Model 10 Electra, the Model 12, the Model 14 Super Electra and the unbuilt Model 16.
          The Lodestar, in turn, was the forerunner of the Lockheed Ventura, at its time the Lodestar was one of the fastest transport aircraft of its era.   10 Lodestars were allotted to 37SQN RAAF, plus an additional five Lodestars (LT 931/935) were transferred from Dutch East Indies to 37SQN early in 1944.
February 1945 saw the squadron convert to operating Douglas C-47B Dakota aircraft from Essendon Aerodrome in Victoria, a total of 12 airframes were allocated to support operations in Australia, Dutch New Guinea and Dutch East Indies.
During World War II, the armed forces of many countries used the C-47B and modified DC-3s for the transport of troops, cargo, and wounded. Between March 1943 and August 1945 the Oklahoma City plant produced 5,354 C-47s.
The initial production of 93 base model C-47 aircraft were named "Skytrain".  Improved capacity to the various onboard electrical systems resulted in the C-47B designation being adopted.
The C-47B evolved from the requirement for better high altitude performance in the South East Asia area produced by the twin radial engines outputting 1200 shaft horsepower each.
The British Royal Air Force instigated the Dakota naming for the C-47B, and in the imperial tradition, the name adopted by the Royal Australian Air Force upon the aircraft introduction to RAAF service in WWII.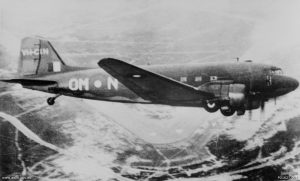 ---