No. 37 Squadron Hercules RETURN TO ANTARCTICA
31 years after the squadron's first C-130E resupply mission to the Antarctic region 37SQN C-130J-30 A97-442 touched down on Wilkins Airstrip. 
The squadron's first mission to the Antarctic was on 7 & 8 December 1989, when C-130E, A97-190, under the command of 37SQN CO Wing Commander Paul Moran, completed two shuttles from Christchurch to Mawson Base and return.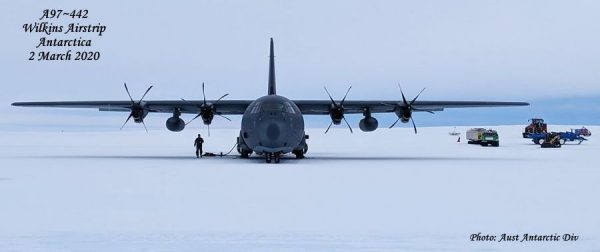 Australian Antarctic Division
A newly modified Hercules aircraft has landed at Australia's glacial runway, Wilkins Aerodrome, marking one of its longest ever flights.
The Royal Australian Air Force (RAAF) C-130J was able to complete the 6,900 kilometre return flight from Hobart using two additional external fuel tanks fitted beneath the wings.
Director of the Australian Antarctic Division, Mr Kim Ellis, said the flight south to the 3.5 kilometre ice runway took about 6.5 hours.
"The Hercules delivered 780 kilograms of cargo to Australia's expeditioners at nearby Casey research station," Mr Ellis said.
"This is another great capability the Australian Antarctic Program now has to reach our stations, deliver cargo and provide medical support to our people working in Antarctica."
Wing Commander Dion Wright, Commander Australian Contingent for Operation Southern Discovery, said the flight was one of the longest-range missions undertaken by an Australian C-130J Hercules.
"The additional tanks increased the Hercules' fuel capacity from 19 to 27 tonnes, giving us the flying range to support missions such as this," Wing Commander Wright said.
The plane carried extra fuel with it and the crew refuelled once on the ground at Wilkins.
"Using the C-130J provides additional capacity for the RAAF to support the Australian Antarctic Division than by relying on the C-17A Globemaster alone."
The Australian Antarctic Program already uses Defence's C-17A Globemaster for cargo operations, with six flights scheduled over this summer season.
The RAAF has been supporting the Australian Antarctic Program through Operation Southern Discovery since 2016.